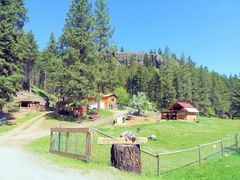 The Goat Farm - Goat Patrol in Republic, WA is nested in the beautiful Sanpoil Valley, surrounded by national forest, mountains and meadows.
We are housing about 40 goats of several breeds. While our boys (bucks and wethers) are contributing there abilities to our Goat Patrol-Weed Control operation, the girls are producing wonderful kids. We raise dairy goats and meat goats.
We also offer services around goats, from buck service to healthcare.
Our Goat Farm is open to visitors! Everybody is welcome to enjoy the goat kids in the petting zoo, browse in our Little Farm Shop for farm products and have a good time with all the animals and activities.
Please find detailed links above and to the left.