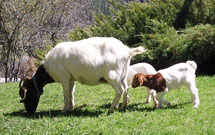 As Meat Goats we raise and sell Boer Goats and Percentage Boer goats.
All dams and sires are tested CAE and CL negative and current on deworming and delouseing. Kids acquired for fairs and market will be tagged with a Scrapie ID Tag.
We do not disbud (dehorn) our goats.