5 different breeds and crossbreeds available.
All bucks are dewormed, deloused and CAE + CL negative tested. Current results can be shown.
---
#1 Patriot - Nubian Buck, 3/4 Nubian, 1/4 Boer
*
first class goat buck, suitable for dairy or meat goat breeding, produces beautiful multicolored and spotted kids
Patriot is a sweetheart. You can take him easily to your place for buck service if you like. He goes along with everybody and is easy to handle.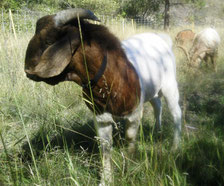 ---
#2 Rupert - High Quality Boer Buck
* he comes from thoroughbred boer goat blood lines, with national champions on the sire's side and ennobled show does on the dam's side. He was born 7/2/2013 and is ready for service in Fall 2014.
Registred Pedigree:
Sire: NorseMan - 100% Commercial, Paint
          Sire: Rowdy River Ranch Little Man Tate
          Dam: Delphina 100% Boer dappled in color
Dam: Wild Irish Rose - Traditional
          Sire: Leaning Tree BH. Big Ben x96
          Dam: SDM MBG Foxtrots Marilynn
#3 Gregory - P
urebred 
LaMancha Buck
* out of show doe with excellent milking lines. His kids are always strong and chunky
Gregory is a very nice guy, but can get a bucky aditude. He could go for the buck service to your place as well, but you should have a strong hand, just in case.  Otherwise you should bring your does to our farm to get them bred by him.
---
#4 Billy the Kid - Toggenburg x Oberhasli Buck
* both are old established dairy goat breeds from the Alps.
Billy is ready for buck service in fall 2013. He will be able to go out for buck service as well. He seems to turn out as a cute pet goat.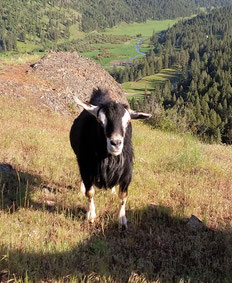 ---
#5 Jerry Lee - Nigerian Dwarf
Jerry Lee is sweet as pie. According to his breed, he is the smallest buck we have. He is easy to handle, gets the job done (if the doe isn't too tall...) and we will see how is offspring looks like within the next few weeks. He is also suitable to cross breed with small dairy goats. Jerry Lee can do the buck service at our place or go to your place. But be aware, as short as he is, he is the only one of our goats, that will jump a fence!
Requirements and Prices
---
In order to preserve the health and quality of each goat, we require a negative CAE and CL test of your doe. We can assist you with the testing, click here CAE and CL Testing
The price is $40 each breeding for one doe.
For each additional doe, we charge only $35 each.
We prefer to get the does in heat. Therefore the stud fee includes three days of boarding for your doe(s). 
For each day after that we charge $5/day for feed and care. Discounts for groups of does available.
A Marking Harness shows when your doe is bred. If the buck goes for service to your place, the harness can goe with him, so you can see how it is going.